Mrs. Grausso's Home Page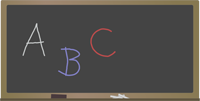 Welcome to Mrs. Grausso's
Website
On this site you will be able to:
Check for upcoming events in the classroom and events on the district calendar
Check out fun websites, educational games and play with puzzles
Look for copies of forms that were given out in class
The site is very easy to navigate! Everything you will need is on left side navigation bar.
Enjoy!
Please let me know if a link is not working properly. Also, I would love to hear suggestions on how this site can better serve you and your children.